JILL STUART Tuberose & Rose hand cream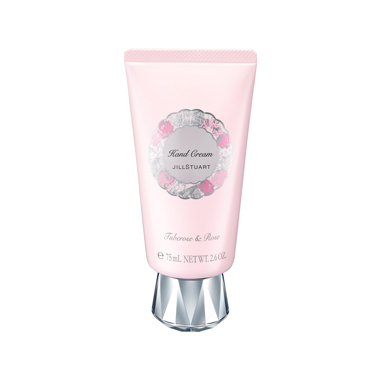 Rich moisturizing effect makes even your fingertips firm.
Hand cream leading to smooth hands and skin.
JILL STUART Tuberose & Rose hand cream
75g HK$170 30g HK$85
Product features:
・This hand cream spreads over your hand with a dense touch as if melting with a luxurious sense of use thanks to its high penetration.
・Refreshing moisturizing effect penetrates and protects easy-to-dry skin by wrapping while softly relaxing. Thus creating smooth and soft hands.
・Moisturizing ingredients, such as the white strawberry extract, calendula extract, and damask rose extract, and emollient ingredients, such as mango seed oil, wild rose extract, rosehip oil, and shea butter are blended together. By covering the surface with emollient oil, a soft and springy texture skin will be provided.
・In the clean and modern impression of JILL STUART RELAX, a romantic design scattered with flowers, such as roses, based on pink. It has a brilliant-cut silver cap.
・Flagrance of tuberose & rose.
Directions for Use:
Put an appropriate amount on your palm and work it into your hands.
Beauty Essences:
Emollient ingredients: White Rose Extract, Mango Seed Oil, Calendula Extract, Damask Rose Extract, Wild Rose Extract, Rose Hip Oil, Shea Butter